ACCT ANNOUNCES THE PUBLICATION OF ANSI/ACCT 03-2019
Date posted
September 13, 2019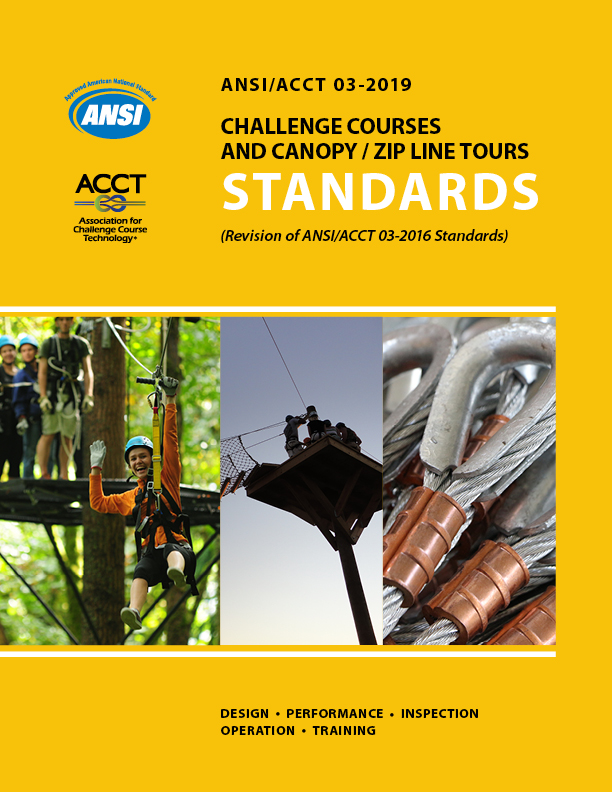 The Association for Challenge Course Technology (ACCT) is proud to announce the publication of a revision to the ACCT Standards: ANSI/ACCT 03-2019 Challenge Course and Canopy/Zip Line Tours Standards (revision of ANSI/ACCT 03-2016). The new book is now available for purchase in digital and print editions.
To purchase copies, please contact ACCT at https://www.acctinfo.org/store/. Questions about the standard should be addressed to Scott Andrews, Policy Director at scott.andrews@acctinfo.org.
Members of the association will receive a complimentary digital edition. A print edition can also be purchased at a discounted member price on the ACCT website. Not a member? Join now: https://www.acctinfo.org/JoinNow
All members of the challenge course, zip tour, and adventure park industry including builders, inspectors, operators, and regulators should read and understand this new industry benchmark. The ANSI/ACCT Standards address the design, installation, and performance of challenge courses, zip lines, adventure parks and the operation and staff training for those sites. The 2019 edition has significant changes in the standards addressing the operations of sites.
About the Association for Challenge Course Technology
Founded in 1993, the Association for Challenge Course Technology, (ACCT) is an American National Standards Institute (ANSI) Accredited Standards Developer focused exclusively on the challenge course, aerial adventure park, canopy tour and zip line industry. ACCT was responsible for the development of the first challenge course industry standards, published in 1994.
In 2006, ACCT became an ANSI Accredited Standards Developer and has maintained that status. This designation indicates that ACCT has an accredited standards development process that is open, fair and allows for equal representation of material affected parties. To learn more about ACCT, please visit: www.acctinfo.org