Back to Products & Services
ANSI/ACCT 03-2019, Print, Member - (en) (current)
ANSI/ACCT Standards | Current Edition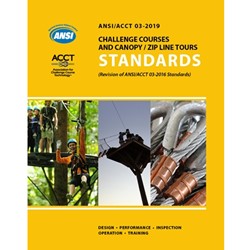 ANSI/ACCT 03-2019 Challenge Courses and Canopy / Zip Line Tours Standards was published in September 2019. The price is $120.00 for non-members and $95.00 for members, plus shipping and handling.
There are 3 Chapters in the standard:
Chapter 1: Design, Performance, and Inspection Standards
Chapter 2: Operation Standards
Chapter 3: Training Standards
While there are some diagrams in the book, there are no design plans for elements.
Spanish and Chinese Translations of ANSI/ACCT 03-2019 Standards are available here.
Please note: If you are an individual, starting at $95/year, you can join the Association as a member, and receive access to a digital copy of the newest edition, a discount on conference registration, industry updates via email, and other benefits. Click here for more info or to join.
If we are showing as SOLD OUT above, you can order direct from a printing partner, but there may be significant lead time to print before receiving your order.
Please contact us if you want to make a large order (more than store shows available) for actual availability and best shipping options.
---