Back to Products & Services
ANSI/ACCT 03-2019, Digital, Non-Member - (en)
ANSI/ACCT Standards | Current Edition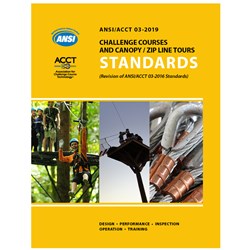 ANSI/ACCT 03-2019 Challenge Courses and Canopy / Zip Line Tours Standards was published in September 2019.
There are 3 Chapters in the standard:
Chapter 1: Design, Performance, and Inspection Standards
Chapter 2: Operation Standards
Chapter 3: Training Standards
While there are some diagrams in the book, there are no design plans for elements.
Spanish and Chinese Translations of ANSI/ACCT 03-2019 Standards are available here.
PLEASE NOTE THAT A DIGITAL LICENSE IS PART OF YOUR MEMBERSHIP AND YOU CAN ACCESS IT AT YOUR PROFILE IF YOU ARE LOGGED IN (free of charge)
---