Challenge Course Lead Instructor (Part-Time)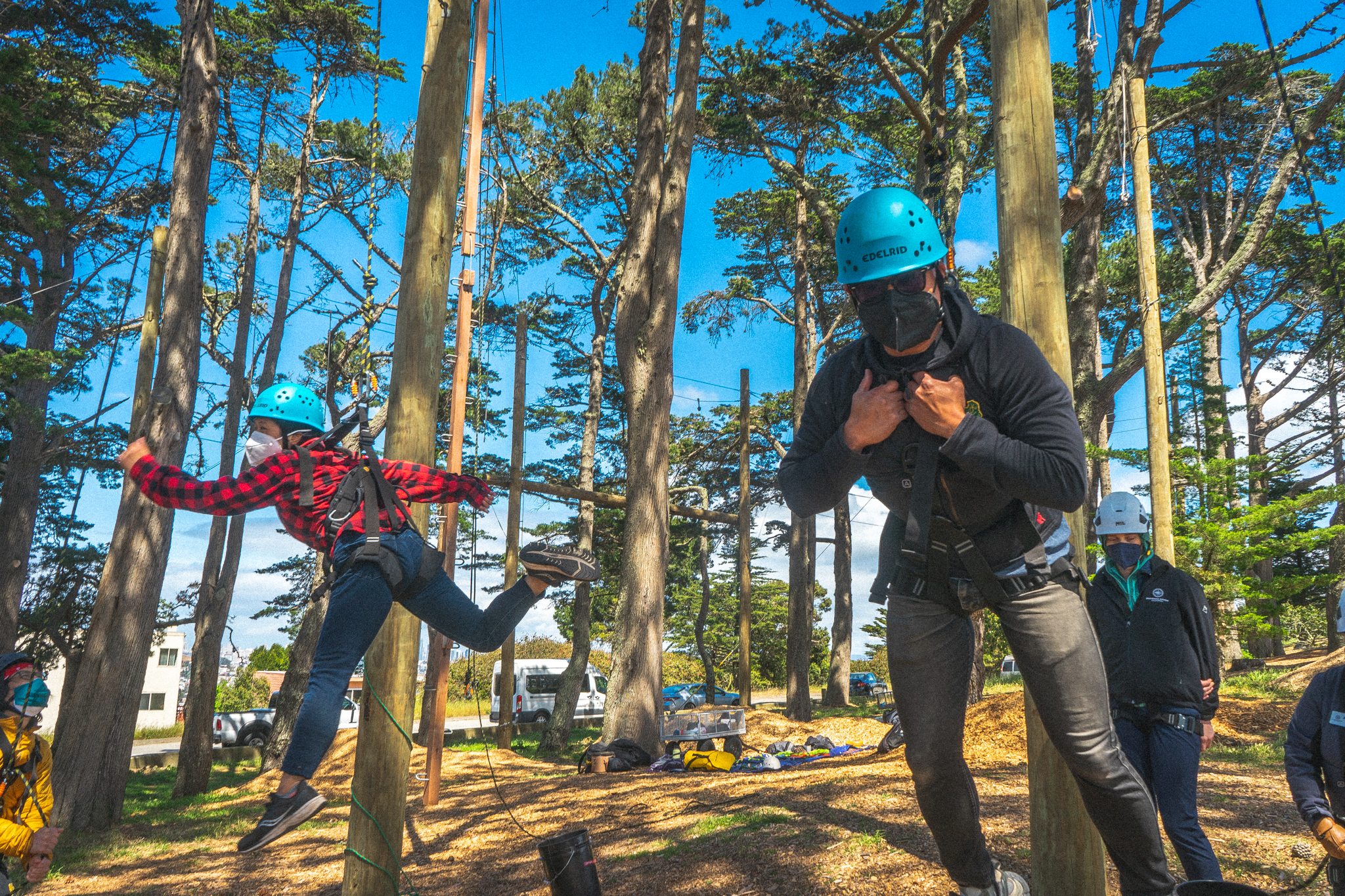 Description & Details:
Challenge Course Instructors facilitate full-day programs for students in grades 6-12 and adults. You'll be responsible for planning the curriculum and flow of the day, setting up and breaking down the challenge course, and safely facilitating students through the program elements (high & low ropes, ground games, and team-building activities). Our instructors are skilled in facilitation and experienced in working with a variety of students and ages.

Wage: $22/hour with opportunities to promote

Schedule: This is a part-time, hourly position, typically 2.5-3 days a week (~20 hrs/week). Program operates Tuesday-Saturday, January 20, 2023 through November 3, 2023.

Start date: As soon as possible

Benefits: Paid and Unpaid Time Off, Pro Deal, professional development funds, Employee Assistance Program (EAP), free of charge for staff and family members, 401K with employer match after 1-year

Location: Most program days take place at the McLaren Park Ropes Course in southeast San Francisco.


Qualifications: Experience with Challenge Course facilitation (belaying, spotting,  low and high ropes course activities, teambuilding games and initiatives).

Requirements (by start date)

First Aid & CPR/AED (must meet EMSA requirements for childcare providers [i.e. requires an in-person assessment])
20 years of age or older
Able to work Saturdays and nontraditional hours (earlier than 9am)
Able to pass a federal & Live Scan background check and provide current (within last 4 years) negative TB screen or test results (cost of all screening paid for or reimbursed by OBCA)



About Us:

Outward Bound California (OBCA) is a non-profit that uses challenging experiences in outdoor settings to create social-emotional learning opportunities for our students.

At the Challenge Course, we offer 1-day experiences for students aged 12+, including adults. We serve a variety of participant groups including schools, community organizations, and companies. To learn more about our course elements, check out the video tour.

OBCA is deeply committed to increasing access for students and schools that have traditionally been excluded from outdoor spaces. We do this through our 40+ community partnerships and offer partial or full scholarships to over 2/3 of our students.

Equity and Inclusion Statement:

We believe that all people should have safe access to the outdoors and culturally relevant and responsive educational programming. OBCA is also striving to create an equitable and inclusive internal culture where all staff members feel represented and honored for their identities and lived experiences. We examine how power, bias, race and other aspects of identity impact our organization. We work to build a culture where we are always learning and improving toward a vision for equity and belonging for all staff. We are looking for team members who can actively join us in this process. We are also committed to reflecting the diverse communities with whom we work and strongly encourage people of color, LGBTQ+ identifying folks, and women to apply.

Outward Bound California is an equal-opportunity employer. Employment decisions are made without regard to race, color, religion, national or ethnic origin, sex, sexual orientation, gender identity or expression, age, disability, protected veteran status, or other characteristics protected by law. Outward Bound California also promotes respect for all people, and will not tolerate harassment based on any of these characteristics. Outward Bound has a zero-tolerance policy for incidents of child abuse and neglect. Protecting our minor students against abuse and neglect is of the highest priority.