Adventureworks Associates Inc. - Low Ropes Facilitator (Level 2)
---
Tuesday, November 28, 2023
at
8:00 AM (EST)
to Thursday, November 30, 2023 at 5:00 PM (EST)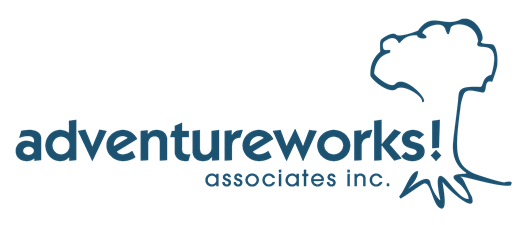 Course Description
Make your program more effective! Trainees in this 4-day course learn skills that enhance their ability to create innovative low ropes programs that create meaningful involvement of all participants. During this course trainees will experience new variations and uses for commonly installed low ropes course elements as well as portable activities than can be used indoors or outdoors. Participants Trainees will develop skills in program design, activity sequencing and debriefing. Advanced spotting and safety management will also be covered.
Course content will primarily be covered by actively living the Adventure Program Model. Some material will also be covered through classroom sessions. Facilitation skills will be developed through peer leadership on the final day of the course.
Participants will receive the Low Ropes Facilitator Practitioner Manual which includes our new Low Ropes Activity Guide.
Course Objectives
By the end of this course, instructor candidates will:
• Learn variations of low ropes activities that maximize use of existing elements
• Learn a variety of portable activities
• Improve facilitation and leadership skills though participation in a variety of adventure activities
• Understand the role of program design in providing meaningful involvement opportunities for all participants
• Learn new and innovative ways to facilitate reflection and transfer of learning in low programs.
• Develop, practice and receive feedback on their own facilitation style
Course Pre-requisites
• 18 years of age
• 200 documented hours of adventure program delivery experience as a Level 1 Challenge Course Practitioner
• Previous certification as a Level 1 Challenge Course Practitioner (Please note that experienced participants may "challenge-in" if they do not have a formal Level 1 certification)
• Willingness and ability to perform all tasks related to ropes course operation including spotting, set-up / take-down of low elements
Certification
Following testing, a Level 2 Challenge Course Practitioner (Spotted Activities Only) certificate may be issued to individuals who:
• Meet the pre-requisites
• Participate in the entire course
• Demonstrate mastery of the skills taught
• Achieve 80% or greater on a written test
Challenge Course and Climbing Management is an advanced level course. Participants are required to complete an application form and portfolio prior to registration being finalized. To register…
Download a Challenge Course Portfolio. Blank templates and instructions can be downloaded here.
Register for the course. Your registration will not be finalized until you have submitted a completed portfolio.
Complete the online Advanced Course Application Form found here. There is a space to upload your completed Portfolio.
Wait for approval - we will contact you within 2-3 weeks of your Form submission.
Additional Info
Please ensure that you have read and understood the Registration Policies.
Meals include lunch on first day of course, to lunch on last day.
This event leads to ACCT Certification. Please read the Certification FAQ's. Candidates must submit a portfolio and be approved to participate.