Adventureworks Associates: Challenge Course & Climbing Program Management
---
Monday, November 27, 2023
at
8:00 AM (MST)
to Thursday, November 30, 2023 at 5:00 PM (MST)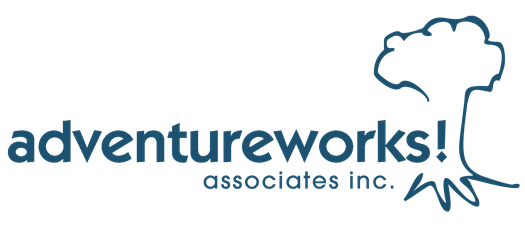 Course Description
The 30 hour Ropes Course and Climbing Program Management training course is designed to help senior adventure program instructors and program directors manage their ropes course and climbing programs (tower, wall, or cliff) more effectively. This can enhance your ability to deliver safe and effective adventure programs by increasing your understanding of standards, current research and testing, emergency preparedness and program assessment. The workshop's experiential approach enables leadership teams to refine their ropes course and climbing program management systems and hone their critical incident response plan.
Additionally, participants will submit a final project following the course. Projects will include one of the following: Staffing & Training Plan, Risk Management Plan, or Local Operating Procedures. Our course includes review and feedback on these projects from one of our Senior Consultants.
All participants will receive a copy of the textbook Aerial Adventure Environments. Participants will also be given digital access to a variety of other manuals and resources.
We offer two tracks for this training: Certification and Audit.
Course Objectives
By the end of this training, ropes course and climbing program management attendees will:
• Appreciate how current standards and practices may inform the operation of ropes courses and climbing programs
• Have the ability to improve their adventure program's effectiveness by applying research findings, assessment, and evaluation tools
• Apply the key concepts of the injury counter-measures model to their own safety management plan
• Create more effective management systems for their adventure program using the tools provided in their site's operations manual
• Develop a Staffing and Training Plan for their site.
• Learn how to develop a Local Operating Procedure's Model.
• Understand the implications of recent research and testing on equipment selection, facility operations, and staff training
Audit
The skills and concepts taught in the Ropes Course and Climbing Program Management training course are of benefit to any director or program director having supervisory responsibility for the adventure programming aspect at their facility. As such, we provide an "audit" opportunity for those who do not meet the certification pre-requisites. Participants who are "auditing" may participate fully in all aspects of the training, but will not be eligible to participate in the Testing Day. As such their participation will be complete at the end of Day 3.
Certification
Those individuals who meet the prerequisites forcertification, complete all the course hours, and successfully complete thepractical skills assessment and written test will receive certification as a Challenge Course Manager, in accordance with ACCT Standards.
Pre-Requisites
• 21 years of age
• 500 documented hours of adventure program delivery and management experience
• Current certification as a Level 2 Challenge Course Practitioner (Adventureworks! Associates, Inc. Ropes Course Instructor or equivalent)
• Willingness and ability to perform all tasks related to ropes course and climbing wall operation including spotting, belaying, climbing on belay, climbing on personal fall protection to perform set-up / take-down, and performing in-air rescue tasks
Challenge Course and Climbing Management is an advanced level course. Participants are required to complete an application form and portfolio prior to registration being finalized. To register…
Download a Challenge Course Portfolio. Blank templates and instructions can be downloaded here.
Register for the course. Your registration will not be finalized until you have submitted a completed portfolio.
Complete the online Advanced Course Application Form found here. There is a space to upload your completed Portfolio.
Wait for approval - we will contact you within 2-3 weeks of your Form submission.
Additional Info:
Please ensure that you have read and understood the Registration Policies. This is an advanced level course. Participants must submit a portfolio and be approved to take the course.
Meals include lunch on first day of course to lunch on last day.
This event leads to ACCT Certification. Please read the Certification FAQ's.